The latest market information shows that BTC/USD continues to hover around $29,000 after failing to hold the key $30,000 support.
BTC price action, May 15-25, 2022. /Source: StormGain
With the initial cryptocurrency stalled, traders and analysts are watching for the next price action. Some are looking for positive signs of the ongoing World Economic Forum (WEF) annual meeting in Davos, while others are pointing to historical chart patterns or highlighting the cryptocurrency's correlation with the broader stock market. Regardless of whether Bitcoin falls below its pre-2020 levels, there are some useful strategies traders can employ to stay profitable even in crypto winter.
BTC at the World Economic Forum
Cryptocurrencies were a big topic at the WEF Summit, with multiple panels on crypto, DeFi and CBDC featuring thought leaders from traditional finance, fintech and crypto. Miami Mayor Francis Suarez supports innovative uses of cryptocurrencies in bear market: "We live in a world where investors only see things in terms of returns, but should look at Bitcoin in terms of innovation and technology" . Circle Pay Chairman and CEO Jeremy Allaire and Ripple CEO Brad Garlinghouse were also in attendance to explore the potential of crypto for cross-border payments and national stablecoins.
However, despite crypto being a hot topic, discussions at this week's conference did not appear to have a meaningful impact on Bitcoin's market price. Nonetheless, this suggests that the outsider status of cryptocurrencies in the global economic system is a thing of the past. For now, if cryptocurrencies are still largely seen as an investment asset, can the broader stock market provide clues on what to do next?
Relationship with U.S. stocks
Bitcoin's recent market behavior has been closely correlated with U.S. stocks, especially tech stocks. The latter, in particular, is grappling with a post-pandemic market correction, but stocks are showing positive signs. The S&P 500, Dow, and Nasdaq all started to rise after sharp losses, which are also positive indicators for cryptocurrencies.
One indicator to watch is the CME futures gap. BTC futures are not traded 24/7 on the CME, so prices there often move to fill the gap between the close and open of CME trading. BTC/USD did manage to close the downside of the CME futures gap, so expect it to bounce back to fill the gap. However, it's not always that fast.
Cryptocurrencies are still seen as a risk asset rather than a safe haven, and even the current weakness in the U.S. dollar is not enough to get investors to flock to Bitcoin. One factor must be the US Federal Reserve, which is raising US dollar interest rates in an attempt to stem inflation.
Given that cryptocurrencies are notoriously volatile compared to the stock market, the breakout for Bitcoin and the company could be more sudden and dramatic than anything happening on Wall Street. Looking at the BTC chart, we can see some interesting patterns that can serve as a basis for price analysis.
Triangle: Where will we see a breakout?
Over the past two weeks, Bitcoin's price chart has formed a symmetrical triangle within a tight range of $28,900 to $30,900. This pattern is likely to continue for two weeks before breaking out in either direction.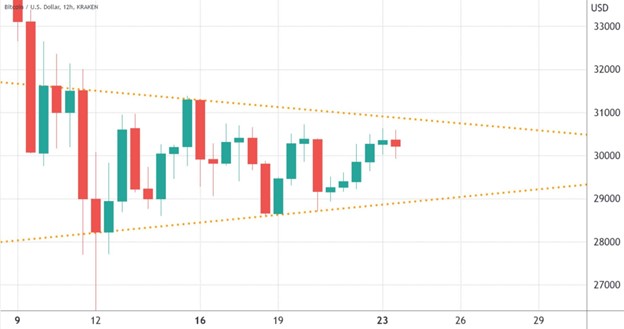 The BTC/USD chart shows a symmetrical triangle pattern. / Source: TradingView
A symmetrical triangle represents a pattern of lower peaks and higher lows as the triangle narrows. Typically, the pattern ends with a bullish or bearish breakout when the price crosses a support or resistance threshold. The current investor sentiment is bearish, with most betting on a downturn, but if developing economic trends catch the bears off guard, this will increase the potential return on a bullish position. This can happen if geopolitical events give an unexpected boost to the economy.
The crypto fear and greed index has been stuck in "extreme fear" all month, with a small recovery this week suggesting that the bearish offensive may have eased slightly, especially if BTC recovers above $30,000. As we approach the breakout point of the triangle, the adage to be brave when everyone is afraid may encourage bulls to take risks for commensurately high returns.
Death Cross Prediction
Analysts have been discussing the so-called "death cross" pattern on Bitcoin's chart. This phenomenon occurs when the falling 50-period moving average (50MA) crosses below the 200MA. Historically, a death cross has meant a significant price drop, and the current situation in BTC/USD suggests that a death cross is imminent.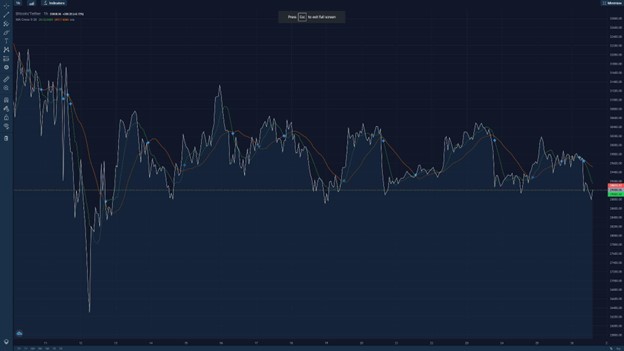 1 hour BTC/USD chart showing MA crossover indicator / Source: StormGain
Based on historical precedent, BTC will drop after a death cross, usually by a percentage that matches the drop before the cross. The current pre-cross drop is 43%, so if this pattern holds, we would expect the price to drop to around $22,000. However, in the death crosses before 2020 and 2021, the crosses themselves marked the bottom of price action and the start of an unusual rally.
Traders should pay close attention to movements near the cross. If it looks like the previous two years, this would be a good time to buy ahead of a recovery. If it behaves like a pre-2020 cross, then we can roughly predict further price declines.
A two-year trough?What to Know Before Buying Immersion
History has proven that a crypto market crash is a good opportunity to sell coins at bargain prices for profit in the next bull run. For example, buy bitcoin for around $6,000 in 2020 and sell it for $60,000 before 2022. Bitcoin is currently expected to drop below $24,000, while altcoins will follow a first mover pattern. So, if someone is buying discounted BTC, when should they expect new highs? Bitcoin's long-term prospects will certainly test the patience of some traders.
Popular crypto Twitter commentator, Il Capo of Crypto (@CryptoCapo) has set a credible goal: Hodlers should only expect BTC to break out to new all-time highs in 2024. Why? Bitcoin's next block halving is scheduled for that year, and the reward given to miners will drop from 6.25 BTC per block to 3.125 BTC, slowing supply and making buying more attractive. By then, Bitcoin has the potential to surpass $70,000 and reach new heights.
Historically, Bitcoin's bear market periods have been periods of retail buying into the cryptocurrency market, and on-chain data shows that things are no different now. But new traders have to be patient and have strategies ready to deal with the cold winter. Fortunately, the best cryptocurrency exchanges offer a range of options to profit from both rising and falling markets.
Trading strategies to survive the winter
Storm Buff is an all-in-one crypto platform designed to enable profitable trading strategies regardless of market conditions. Not only does it have a built-in crypto wallet with bonuses for long-term trading and holding, but it also has low fees to help you grab these exciting market opportunities as they arise. This allows new traders to buy the dip, enter the market at a discount, and accumulate the cryptocurrency until the next bull run.
For traders concerned with risk management, StormGain also offers crypto indices. They are asset combinations of different tokens that can diversify your portfolio to avoid overexposure to the performance of any one asset, while benefiting from an overall market recovery.
Additionally, traders can buy call and put options to short the price. If you believe in the consensus that the market is likely to fall in the short term, shorting the price of a cryptocurrency is a viable strategy for profiting in a bear market.
Regardless of the strategy you choose, StormGain rewards all traders who actively trade on the platform, thanks to its built-in Bitcoin cloud miner.
All of these features are available on StormGain's easy-to-use mobile app or web platform. Not a StormGain member yet? To sweeten the pot, new StormGain customers who register before May 31, 2022 will receive a 20% bonus on their first deposit of 10 USDT or more. Sign up in seconds Join the cryptocurrency platform and enjoy the best benefits in the industry!