The crypto markets have observed extreme fear for two months, with investors panicking as Bitcoin fell to $20,000, data shows.
Crypto Fear and Greed Index Still Points to 'Extreme Fear'
According to the latest weekly report Arcane Researchthe cryptocurrency market has now faced two months of extreme fear, the longest in history.
This"Fear and Greed Index" is a measure of the general sentiment among investors in the crypto market.
The indicator represents this sentiment using a numerical scale from zero to one hundred. All values ​​above 50 mean investors are currently greedy, while values ​​below the threshold indicate fear in the market.
Edge values ​​above 75 and below 25 mean "extreme greed' and 'extreme fear'.
Now, here is a chart showing the trend of the Crypto Fear and Greed Index over the past year:
Looks like the value of the indicator has been very low recently | Source: Arcane Research's The Weekly Update - Week 24, 2022
As you can see in the chart above, the Crypto Fear and Greed Index now has a value of 9, which indicates that the market is very fearful.
Such low sentiment values ​​have now been in place for two months, making this the longest run of extreme fear the market has ever seen.
Related reading | Crypto markets crash further: Bitcoin (BTC) and Ethereum (ETH) plummet in value
These metric values ​​have remained the same while the entire cryptocurrency industry has experienced a collapse and a large portion of investors have lost money.
Historically, extreme fear streaks have occurred when coins like Bitcoin tend to form bottoms (similarly, tops during extreme greed).
Because of this, some analysts believe that an extremely dire market could provide new buying opportunities for cryptocurrencies.
Related reading | Bitcoin 'Diamond Hand' Begins to Breakout as 1+ Year Supply Increases Sales
Trading techniques that follow this philosophy are called "contrarian investing". Warren Buffett famously summed up the philosophy: "Be fearful when others are greedy, and be greedy when others are fearful."
If historical trends are to be followed, the current long-term extreme fear could be a bottom for Bitcoin and other tokens. If so, now may be the time when contrarian investors see it as an ideal buying point.
bitcoin price
As of this writing, bitcoin price Floating around $20.4k, down 1% over the past 7 days. The cryptocurrency has lost 30% in value over the past month.
The chart below shows the trend of the coin's price over the past five days.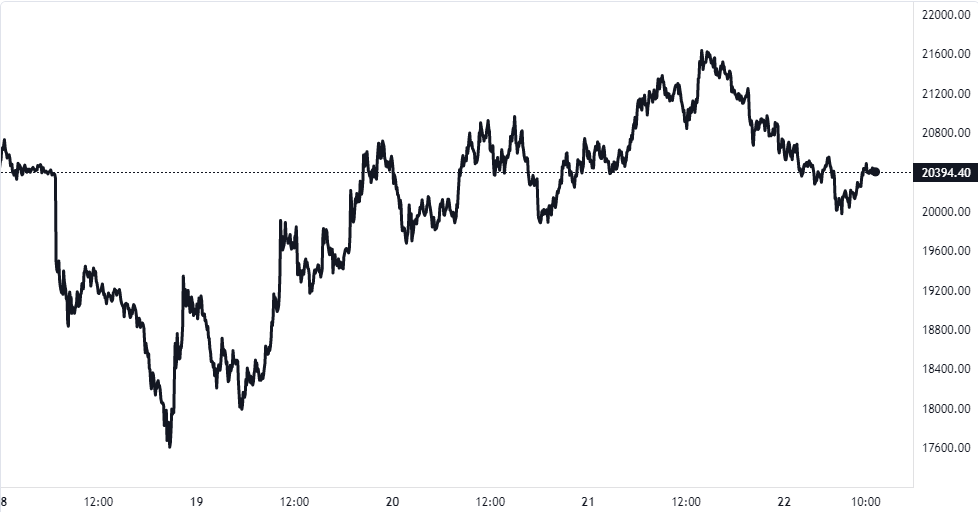 The value of Bitcoin seems to have dropped down over the past day | Source: BTCUSD on TradingView
Featured image from Thought Catalog on Unsplash.com, charts from TradingView.com, Arcane Research