Crypto markets lost steam after an extended weekend in the U.S. Bitcoin and other larger cryptocurrencies have been recording losses during today's trading session and are likely to continue their downward trend in the near term.
Related reading | TA: Ethereum regains strength, showing early signs of a new rally
At the time of writing, the total cryptocurrency market capitalization is $860 billion and has been in a sideways move over the past few weeks. The metric has been trending down since the end of 2021, but saw heavy losses in April-May 2022, as shown in the chart below.
As a result, the general sentiment across the cryptocurrency market is trending to the downside, with extreme levels of fear recorded on the Fear and Greed Index. The price of Bitcoin and other larger cryptocurrencies often sees local bottoms or tops when the index approaches 10 or 80, respectively.
The cryptocurrency market did bottom out in June when the price of BTC approached $17,000 and pushed the Fear and Greed Index to extreme levels. Since then, the top-ranked cryptocurrency has propelled the market slightly higher and formed a new range between $18,600 and $21,000.
Together with $22,000, these levels act as a major resistance area. According to a recent report from Arcane Research, market participants appear to be more optimistic about a possible breakout of these levels. The first statement about the shift in market sentiment over the past few weeks is as follows:
Sentiment in the crypto market has been sluggish for several months, but this week we saw a slight improvement. We are at a two-month high after the Fear and Greed Index climbed to 19 yesterday. While we are still comfortable with the "extremely fearful" zone, we are now pushing towards the "fear" zone and the market is slightly more optimistic (…).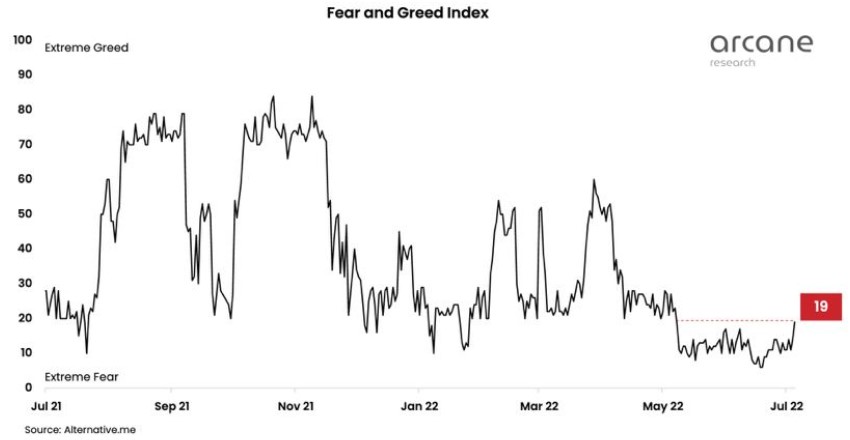 Ready for More Crypto Downside?
The total cryptocurrency market capitalization and altcoin market performance are relative to BTC, ETH, and larger cryptocurrencies. As reported by NewsBTC, the industry is currently affected by macroeconomic factors; rising inflation and a rate hike by the Federal Reserve (FED).
The impact of these factors on markets must be mitigated before emerging asset classes are decoupled from traditional finance. Meanwhile, any bullish momentum will still be affected.
Related reading | Cardano releases new update on testnet, how will the price react?
If the price of Bitcoin does not break above $22,000 soon, the market could see a drop in the Fear and Greed Index. Data from materials indicators and their trend forecasters suggest that a retest of lower levels is likely. Analyst via Twitter wrote:
Both BTCUSDT and ETHUSDT were rejected at the 21-day EMA, and now we see the trend forecast A1 slash rolling across the D chart, indicating a short-term loss of momentum.