The crypto community has been speculating whether the top of Bitcoin at $69,000 is the peak of this bull market. This is a comparison between some indicators to understand how this peak compares to the April peak of $65,000.
Compare metrics between November 10 and April 14 peak
According to the latest weekly report Arcane Research, Most sentiment measures highlight the difference between the two tops.
The first related indicator is the Futures Open Interest Index, which shows the total amount of Bitcoin involved in the futures contract at the end of the trading day.
Here is a comparison of its chart between the peaks in April and November:
Looks like April 14th top had decently more open interest
As you can see above, the peak in April had an open interest of nearly 50k BTC. This meant that there was more excessive leverage in the market at that time.
Related Reading | Prepare for more downtrends: 15% of Bitcoin supply is now at a loss
Below is another chart that compares the unregulated futures basis between the two tops. "Basis" is basically the difference between the price of Bitcoin and the price of futures.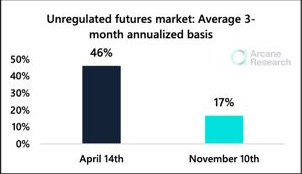 Average 3-month annualized basis in the unregulated futures market
The unregulated futures market basis reached nearly 50% on April 14 and only 17% on November 10.
The basis difference between the unregulated market and CME is also larger, as is the previous top, and so is the Korean premium.this Funding rate, Again, shows a higher value during this period.
Nov 10th recorded relatively less overheated indicators
These indicators indicate that the futures bubble was significantly more pronounced during the April high and the market was more over-expanded.
However, the other two indicators had higher values ​​on November 10.The first of these is Fear and Greed Index, A measure of the degree of market fear or greed.
Related Reading | TA: Ethereum shows positive signs, why ETH can beat Bitcoin
The other is the global open positions of Bybit and Binance. Here is what these indicators look like in these two periods:
The metrics where Nov 10th lead April 14th
All in all, there are some significant differences between the peak of $69,000 in November and the peak of $65,000 in April. Therefore, this may not be the peak of the bull market.Some other on-chain indicators also Support this idea.
Bitcoin price
At the time of writing, the price of Bitcoin is floating around $56,500 and has fallen by 6% in the past 7 days. In the past month, the value of the token has fallen by 10%.
This is a chart showing the trend of token prices in the past five days:
BTC's price continues to tumble down | Source: BTCUSD on TradingView
Featured image from Unsplash.com, charts from TradingView.com, Arcane Research